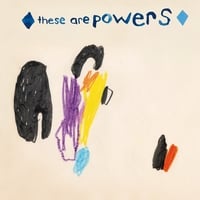 €

10.00
Artist: These Are Powers
Title: Taro Tarot
Format: 12"
No. dLTD026
Release: July 13, 2008
This co-ed trio is all about polyrhythmic pummel; guitars imitate industrial noises, drums clack and grind like fixed gears -- they describe themselves as "ghost-punk," but the band's caustic heaves, shudders and sighs are more mechanical than ethereal. Subsonic bass frequencies are future primitive undercurrents to spectral guitars and banshee vocals.These are hymns over club beats, ragas piggybacking on noise collages, dirges married to dance.
The music is said to echo of old school New York, that No Wave, New York noise, Silver Apples and early Sonic Youth that you all heard and loved. It does, but seriously, it would be far more fair to spice that up with saying that these people used to be in a bunch of brilliant bands like Knife Skills, n0 Things and Liars; That they really know history and have written the future for quite some time...
Recorded and mixed Halloween week 2007 by Jeremy Scott at Civil Defense recording studios Brooklyn, NY.
Mastered by Sarah Register at The Lodge NY, NY.
Produced by These Are Powers and Jeremy Scott.
Illustration & layout by Holly Stevenson.